When we last left the team, they were still taking their 24-hour (and then some) layover in McGrath.
This will be a looong blog post to get in all of the details of the past 24 hours, so have fun!
I have to say that we REALLY enjoyed the McGrath Cam pictures and watching the Pretty Curly Tails and Musher while everybodies rested! I wonder how many "refresh" buttons were wore out and how many refresh button fingers are sore today! I broke one of my nails, but it was well worth clicking and clicking to see the action.
If you squint, you can see the Musher with Richard
It was also wonderful that Richard and Donna Photographer Minion got there and got a chance to visit with the Musher and Pretty Curly Tails!
Richard, Musher, Donna!
The Musher also took some time to be interviewed by the local News Media on her break
...and snowy blah blah, love my dogs blah blah, have I mentioned my wonderful Border Collie Bet?
Ok, if you actually want to see what she's talking about, you can watch the interview on the
KTUU Website here
.
Here she is preparing for the interview
From the pictures you can see just how relaxed the Pretty Curly Tails were. Despite being visited by fans, they pretty much kept to their napping schedule, rising to greet some of them and get ear rubs, but for the most part they were very professional nappers.
Here is Crunchie looking like an adorable little puppy taking his beauty sleep.
From that picture you would never guess that he was 10.5 years old, a veteran of 5 (now 6) Iditarod races, and a Champion Show Dog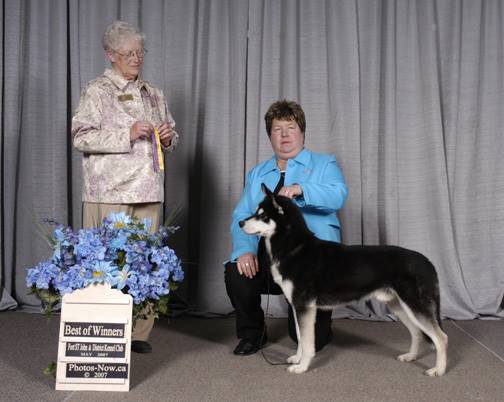 Crunchie doing the show dog thing
Of course, all of the pups jumped up when it was time for some soup! The kibble of choice for the Pretty Sled Dogs is of course:
Soup's on!!!
We've had some questions about what the Pretty Curly Tails eat while racing. Most, if not all of the food is in the drop bags that the Mushers get at the checkpoints and its all ready to go. Musher Mark does most of the work when it comes to cutting up the meats and the other bits that need cutting at home and when preparing the drop bags for the race.
To help explain the process, we asked our wonderful Richard to explain all about feeding time!
Richard's commentary on the foods is in bold, with my additional commentary in normal font:
On normal feedings (at home) they have a scoop of kibble then followed by soup after.
That is blocks of chicken with bone in all ground up and frozen, then melted into the hot water over night.
The blocks of chicken comes from Mountain Dog Food
(proud sponsor of North Wapiti)
go to products and it shows how it comes. Mark then cuts it up into usable sizes for taking on trail or feeding from home.
On a race the idea is to get the food into the pups asap and leave them to get some Zzzzzz's - so some checkpoints supply hot water, if not or when camping out you fire up the stove by setting fire to HEET or your pants, then throw in the frozen chicken which Mark cuts up real small, and kibble plus a scoop of EnergyPak into the cooler, which is basically fat, fat and more fat in a powdered form.
Thank you Richard!
Now, because she had planned on taking her 24-hour in Takotna, that's where her 24-hour rest drop bags were. OH NO!!! So what happened, you may be asking.
According to Donna Photographer Minion:
"In McGrath, because her drop bags were in Takotna, officials let her have left over bags of other mushers. She took DeeDee's because Eagle Pack also sponsors Dee, so she had the same kibble. The frozen meat looked like moose meat, but I can't say for sure. She mixed it in the broth and fed. I also noticed a few frozen fish laying next to a couple dogs--little whole, silver herrings."
Thanks for letting us know that Donna!
Here the Pretty Curly Tails are enjoying their "borrowed" soup. And thank you DeeDee!
Donna also let me know that whoever made the home-made jerky in one of her snack bags, that's about all the Musher talked about, how tasty that jerky was. She couldn't remember which checkpoint (they all look the same... covered in snow) So if any of you want to fess up about making home-made jerky... let me know... I'm sure the Musher will require you to make her a case of it for when she gets home.
We're happy to report that the Musher didn't need the extra sled and was able to make small repairs while she rested in McGrath.
The only damage was to her drag brake
As Richard puts it:
"Damaged drag brake - note twisty bits of wire, bent plastic and nuts and washers etc. It got hung up on a tree stump on way over."
Let's see, insert screw A into tab B while holding metal piece with.... UGH!
stupid bolt... STUPID BOLT
Here is Richard watching the brake repair... remember, he can't help her at all, so I'm pretty sure as a guy... it took everything in his being not to grab the tools and do it... guys are handy like that.
We interrupt this blog post for a quick shout out!
On behalf of the Musher and Pretty Curly Tails, I want to send a big shout out to Ms. Joy Rose and her Third Grade class in Livonia, Michigan
And now back to our regularly scheduled blog post...
Don't worry that it was all work and no rest for the Musher! The McGrath little housy thing at the checkpoint was all nice and warm and had a kitchen and stuffs and things...
Musher Art Church with an interesting combination of beverages
Karen posing with Musher Pat Moon
Isn't she amazing... mushing all those miles and still her hair looks FABULOUS!
Here is a cool sign in the McGrath checkpoint building
Pretty soon it was time to bid farewell to McGrath, so the Musher started packing her stuffs... and things
At exactly 17:48 Alaska time (5:28 pm) The Pretty Curly Tails hit the trail again with Jinx and Tess in the lead, along with Hank DeBruin and his team of purebred Siberian Huskies!
I want to thank fan Dawn Kopff Snodgrass who had the quickest clicky fingers to capture both teams leaving at the same time when everyone else failed!
Here is the description of the trail from
McGrath to Takotna
.
At 20:19 (8:19 pm) The team arrived in Takotna and took a 2 hour rest and then left at 22:09 (10:29 pm) with only 15 dogs. OH NO!!!!, you may be saying... what happened to one of the Curly Tails??
Well, I'll tell you... its Tramp. Yep, figures (at least to me). It seems that Tramp was so busy yammering, talking, gabbing with her neighbors, trying to tell everyone else what to do and how to do it, and why she was doing it right and they were doing it wrong, and then trying to stop and tell everyone how to do everything that she was slowing the team down. She just couldn't get her mind on the task at hand and was so distracted, that the others on the team voted to dump her in Takotna so they could have some peace and quiet and get moving.
Here is Tramp relaxing in McGrath
zzzzzz blather blather yammer zzzzzz babble babble zzzzzzz
Richard also told me that when he went out to tell the Willow Pretty Curly Tails that she was coming back, there was a loud collective groan and request for ear plugs.
For more information on dropped dogs and how they are handled, you can visit one of our
2010 blog posts that explains the process
.
So here is the official list of the Pretty Curly Tail Iditarod team:
See
Bang
Smartie
Jinx
Tess
Boo
Wifi
Rocky
Wolvie
Roscoe
Charge
Astro
Turtle
Q
Crunchie
And as soon as she gets transported back and sprung from the prison (no, really, the drop dogs are cared for by inmates at the Eagle River Correctional Institute), here is the official list of Pretty Curly Tails at Willow:
Bingo
Billie
Beauty
Casey
Kelly
TopDog
Runner
Irving
Tramp
Here is the description of the trail from
Takotna to Ophir.
At 1:36 (1:36 am) the team steamrolled into Ophir, checked in and just kept on going toward Cripple! Her plan when she left McGrath was to speed through Ophir and then do some camping somewhere between Ophir and Cripple, which she did!
She most likely grabbed all of the goodies from her drop bags at Takotna and Ophir, because she said she was going to gather her supplies for a camp out on the trail between Ophir and Cripple. Since she couldn't use her Takotna drop bag for the 24-hour, she most likely used some of it during her 2-hour layover there, and then had that and the Ophir drop bag contents for their camp out.
We want to thank Lauri Goforth and Amy Young for the snack bags in Takotna, and Donna Finner and Susan Lavin for the Ophir snack bags!
Here's the description of the trail from
Ophir to Cripple
.
Tomorrow's blog posting will include oodles of pictures of the Pretty Curly Tails in McGrath... we're still processing all of the pictures!
Until later!
- Bet